Care and maintenance
Keep the kayak out of the sun -Lengthy exposure to sunlight can make your boat's bright, colour fade, hatch covers might get weakened and deform plastic elements, especially when left on top of a car with tight straps.

Keep the kayak clean - Wash your kayak inside and out with fresh water after every use. Rinsing off sea water will help preserve metal parts.

Keep the kayak covered - Use a cockpit cover to keep the inside of your kayak both clean and protected from the sun.
Skeg Maintenance - Be sure to regularly rinsing the skeg blade and slider areas.
Tight Hatches - If it's difficult to fit the hatches, apply some silicone spray to ease the job.

Deck lines - Keep deck lines neat and inspect ropes for damages and tears regularly. Damage and gelcoat scratches - Inspect the gelcoat for damages regularly. Scratches through the gelcoat should be repaired.
Storage
When storing your kayak outside, keep it up-side-down. This is the best way to keep the kayak dry.

Be sure to keep the kayak out of direct sunlight. This is to best preserve hatches, ropes and the gelcoat pigment. Gelcoat pigment will fade due to the UV light.

If you store the kayak under a tar, be sure to have enough ventilation. Trapped moist may lead to osmosis.
Transport
When transported by car you should use a a padded roofrack or a cradle and webbing straps.
Gel Coat Repair
It is fairly easy to repair damages and scratches to the gelcoat. Gelcoat is the very outer layer of the kayak.

When in need of a repair kit, we advise our customer to contact our partner Siddis AS. Siddis As is a supplier of product from Gazechim Composites AS, and here our customers can buy the right color in the appropriate quantity as well as everything else they need for repairs regarding composites and specialist knowledge.

To access Siddis AS, use this url: https://www.siddis.no/
Our colour codes
White – Ral code 9016 - Colour code 80514.

Black - Ral code 9000 - Colour code 90000.

Yellow - Ral code 1373 - Colour code 30009.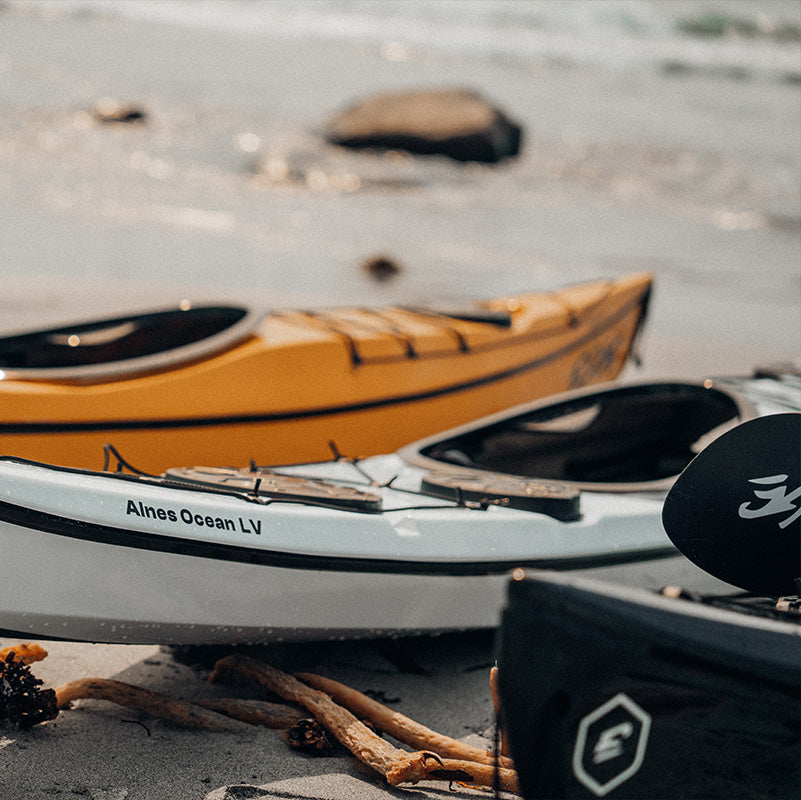 To improve UV protection
To improve UV-protection, we advise our customers waxing the kayak with Maxolen Liquid Hard Wax M2. This is a liquid wax for long-term protection of varnish and gelcoat.
Warranty
Edge Kayak AS warrants all kayaks to be free from defects in materials and workmanship for a period of five years from the date of purchase. This warranty applies to the original owner for purchases made directly from Edge Kayak or an authorized Edge Kayak dealer. Proof of purchase, such as the original invoice, is required to claim warranty coverage. During the warranty period, all kayaks found to have defects will be repaired or replaced, at the place of purchase, free of charge.

The warranty does not cover damage to the products resulting from abuse, misuse, negligence, towing, accidental damage, or normal wear and tear. The warranty does not apply to commercial use, rentals, outfitters, or demonstration boats. Edge Kayak reserves the right to determine whether the terms of the warranty have been properly complied with by the owner.
How to make a warranty claim
To pursue a customer warranty claim, contact the dealer as they are best placed to advise if you have grounds for a claim.You will be asked to provide the dealer with the following information:


Your name, address, telephone number & email address
A description of the problem
A description of what happened and any witnesses
Why you feel it is a warranty problem
Kayak serial number (located at stern or inside cockpit)
Date of purchase
Proof of purchase